There are some top wildlife experiences, very magical and not eye-watering priced like the experience of seeing mountain gorillas. For those that make it and get lucky through the lush green forest of Uganda, Rwanda, and D.R Congo, photographing mountain gorillas is an important part of the gorilla trekking experience.
But do you know the rules on gorilla photography, how to get a top shot, or what it takes to get the shots that you really want? If you are a wildlife photographer, am sure there is that one thing that you have tried to photograph, but haven't gotten the shot you think you should be getting.
Photographing Mountain Gorillas, to do so, you will need to locate them first. They are endangered species but conservationists in Uganda, Rwanda, & D.R Congo together with authorities have done a lot to protect them in their habitat. Trackers each day lead tourists to where they can see these magnificent animals.
Challenges in Photographing Mountain Gorillas
The Habitat
Mountain gorillas are found in a remarkable region of Africa and have a small yet fragile population. This population is in the highland regions characterized by dormant and active volcanoes that stand between 800 to 4000+ meters above sea level. This means you hike to get to the gorillas, it may be tiring or even risk your gadgets in case it is slippery. This is in Rwanda, D.R Congo, and Uganda Virunga ranges and the Bwindi Impenetrable National Park.
The habitat of these primates/apes is one of the biggest challenges to photographers and videographers. They live in remote jungles and here there are a lot of distractions, the leaves, vines, and foliage texture, and this will require a lot of techniques to isolate the subject which is the mountain gorillas. Some are thorny and itchy, so without good clothing (long-sleeved shirts, pair of trousers, among others).
You have to work a lot to minimize these distractions, but also don't be afraid to show the gorillas their environment/home. But this can also cause some really poor lighting mostly if it's sunny or when they are in trees and you have to shoot into a bright background. And remember no flashlights.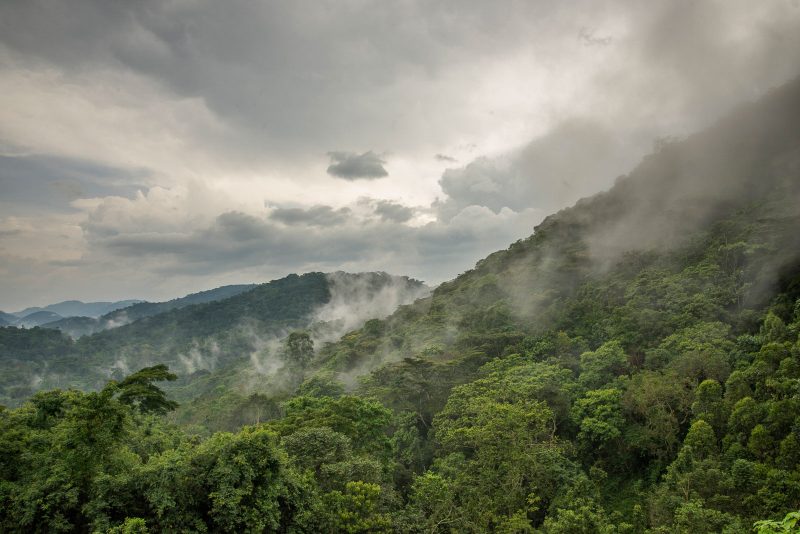 Time allowed
The brilliance of photographing mountain gorillas goes down to the expressions that the gorillas make. The young ones (juveniles) are curious but remember if it's a set, you have it for only an hour (1 hr). This is not enough as you have to change settings, and lenses and look for different shots. The activity alone can take about 2-9 hours depending on how fast you get to a group you are tracking. Most of these hours are spent walking in the jungle making your way to and from the exact spot you locate the gorillas. The one hour you spend with the gorillas may not be near enough thus need several treks to get the perfect shots.
"You have to trek many times to increase your chance of great photos. I have done 284 treks but still looking for better shots", – Paul Kirui, Safari Guide and Photographer from Kenya.
Pouring Rain
Rainy or dry season, the rainforests here can bless you with showers. "The other biggest challenge in gorilla photography is the weather. The weather really messes up people, because it always rains. To be honest for all the times I have been there, even in Rwanda for my second trip, it rained", – Atulinda Allan, Video journalist and Photographer said as he narrated his experience with gorilla photography.
The rains understandably make most trekkers put their cameras away. But also this could be a chance to create some great shots if the mountain gorillas don't hide, capturing the curly fur and cold gorillas. Carrying a cover to protect your gear can help you create magic but you will strive to capture the shots.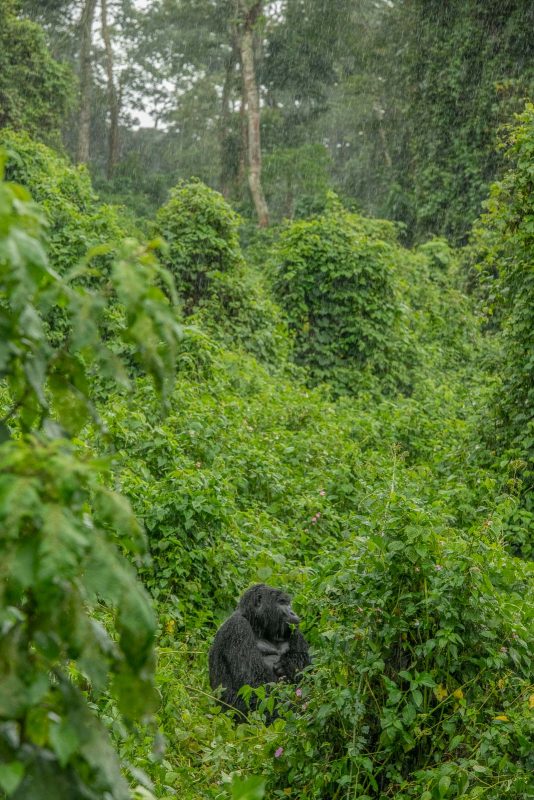 Other People
You don't trek gorillas alone. You are with other 7 people in addition to rangers, guides, and porters. Some may get into your shot or disrupt you. But it is okay to always ask them if they are disrupting.
The rules and Regulations while taking on gorilla photography.
Flash Photography is not permitted
You are allowed 8 meters from the gorillas
Stay in the group of trekkers when near the gorillas
See Mountain gorillas at these 4 parks in 3 countries of Eastern Africa
Uganda's Bwindi Impenetrable National park
Mgahinga Gorilla National Park
Rwanda's Volcanoes National Park
D.R Congo's Virunga National Park
Not every gear and technique will work for you during gorilla photography. So, shoot with a wider aperture, and get your telephoto lens (200-400mm) to be able to accomplish your gorilla photography safaris. You can also do more than just one tracking session.
Do research on what to wear, go with what you want in your mind, research and prepare your gadgets well, and prepare for the weather, and it is easy like that. If you are headed for a trip to photograph mountain gorillas, all the best. We hope this helps you as you weigh.
Let us make your long-life dream of seeing gorillas come to pass by sending us a quote request at the link here https://africanrocksafaris.com/request-for-a-quote/