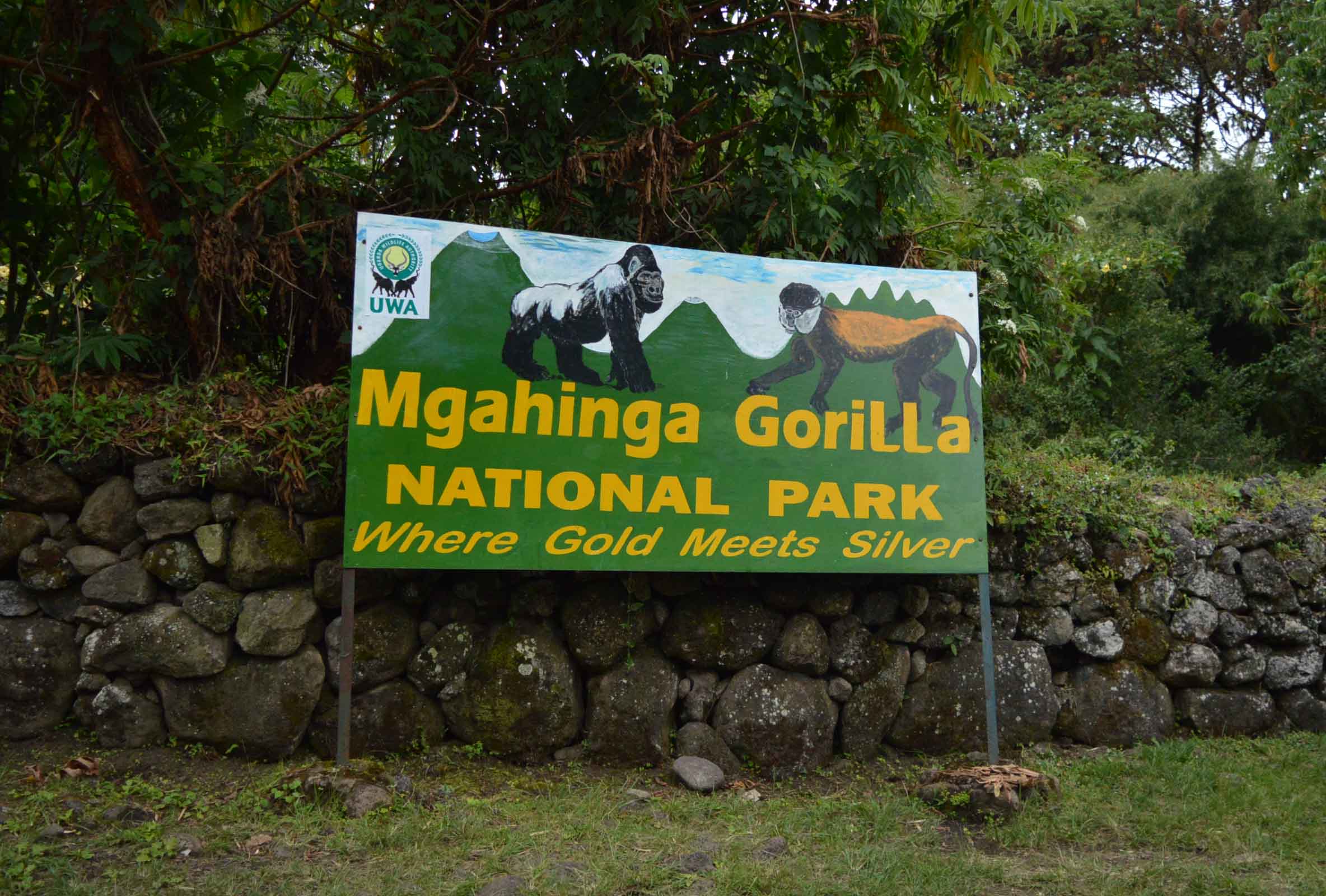 The 34km2 of Mgahinga Gorilla National park makes it the smallest of Uganda's national parks. It comprises the Ugandan part of the Virunga's 8 massifs that incorporate Rwanda and Congo. The park was established in the 1930s as a gorilla sanctuary and was gazetted in 1991 as a national park and during the process, 2000 people were relocated from the forest and its boundaries.
Despite the park is small, it is one of the most scenic parks in the country. It offers a panoramic view that stretches to the skyline and surely has stirring sights. As its name suggests, mountain gorillas are the main attraction. It has only one habituated group as opposed to dozens at Bwindi Impenetrable national park. The other activities to engage in are golden monkey tracking, volcano climbing, walks, the Batwa trail, and watching birds.
Mgahinga Gorilla National park has a checklist of 76 mammals which includes primates like mountain gorillas, golden monkeys, Black and White colobus monkeys, leopards, elephants, buffaloes, bushbucks, duikers, and a checklist of 115 bird species that include 12 Albertine endemics.
To do at the park
Gorilla tracking
After following a trail of trampled and swapped vegetation to get a family of mountain gorillas, you are allowed an hour in their company. In a day, only 8 permits are available for guests to track the Nyakagezi group.
The Ntebeko Visitor's Center is the trail for tracking. It and Muhabura entrance gates are the group's territory. Depending on the expected location of the gorillas, the tracking activity can start from either of the gates.
Hiking
Mgahinga gorilla national park is made of 3 volcanic mountains, which can be hiked in a day with the company of guides and rangers. Day hikes can happen daily starting from the Ntebeko briefing point and they require a reasonable fitness level.
Mt. Gahinga is the least demanding and shortest standing at 3474m. It is a rocky mountain with a swamp at the peak and goes through the bamboo zones with chances of encountering golden monkeys. At 3669m, Mt. Sabinyo which is shared by Uganda, Rwanda, and DR Congo is the toughest of the three and upon summiting it, you can be in 3 countries because it has boundaries of the 3 countries. Far uphill, at 4127m, is Mt. Muhabura the tallest of the three, and has a crater lake on top and views of Queen Elizabeth National park, Lake Edward, and Rwanda on a clear day.
Good hiking boots, rain gear, and warm clothes are a must. For more about the Volcano hiking in Mgahinga, read here.
Golden Monkey Tracking
This is the second big thing to do at the park after gorilla tracking. Golden monkeys are endangered primates that live in the shadows of mountain gorillas. They are less known monkeys with orange and gold fur, which can be tracked through their bamboo habitat. These primates are endemic to the Albertine Rift valley and a group of habituated monkeys can be tracked daily and also visitors can engage in the habituation process. Read more about golden monkey tracking here. 
Batwa trail
The Mgahinga Batwa trail offers a cultural encounter and the Mgahinga Forest experience through the eyes and lead of its first inhibitors, the "Twa" or commonly known as "Batwa" when many of pygmies. The 5.6km trail, offers tourists a chance to walk with the Batwa from their home through the forest as they demonstrate how they used to hunt using an arrow and bow, making fire by rubbing two sticks together, harvesting honey using smoke, using bamboo to collect water, and also a visit to Ngarama caves.
Forest walks
The Sabinyo Gorge Trail is of particular interest for nature walks at the park. It ascends from Ntebeko through the heath into a stand of bamboo forest and follows a small stream through the lush forested Sabinyo Gorge.
Bird watching
Mgahinga gorilla national park is still of great interest to bird watchers despite supporting a small checklist of 115 species of forest birds, montane species, that include 12 Albertine Endemics. 
Getting to the park
There are different options of travel to the park; however, the most common route runs through Kabale and Kisoro from Kampala (540 km, or 335 miles, away) at an estimated 8 hours of driving to the southwestern Uganda Park and this includes 80 km stretch of winding mountainous roads. There are also air travel options from Entebbe International Airport to Kisoro (Nyakabande Airstrip).
Where to stay when at Mgahinga
Budget: Muhabura Motel, Gahiza Island Retreat, Virunga Campsite and Backpackers, Bavah Guest House, Golden Monkey Guest House.
Mid-range: Travellers Rest Inn, Mucha Lodge, Lake Mulehe Gorilla Lodge, Mutanda Lake Resort, Lake Mulehe Safari Lodge, Ikoro Hotel.
Luxury: Mount Gahinga Lodge, Chameleon Hill Lodge