Mountain gorillas (Gorilla Tracking) are what lure most tourists to Uganda and Rwanda. The endangered Apes are protected in the rugged landscapes and steep hills and Valleys of Bwindi Impenetrable national park and Mgahinga Gorilla national park in Uganda, and Volcanoes National Park in Rwanda.
For most tourists that flock to these countries, seeing gorillas- Gorilla tracking is always top of their lists. They make journeys by road or by air to the parks that are gorilla sanctuaries. In Uganda's case, they drive to the 4 trailheads of Bwindi Impenetrable Forest at Buhoma the headquarters of the park, Ruhija, Nkuringo, and Rushaga, the Nteko trailhead at Mgahinga Gorilla Park. For Rwanda, visitors get to the Kinigi Park headquarters where the adventure begins.
Visitors spend a night at a lodge at the edge of the forests. This helps them to make it early before 8 am to the park offices for the gorilla trekking adventure. The experience is always unmatched compared to any other wildlife-watching experience.
Gorillas (in general) are the largest living primates. They are apes and widespread residents of Equatorial African Rain Forests with a population of about 100,000 concentrated in the Congo Basin. Before Gorillas were taken as one specie, until 2001 when they were assigned to the specie Gorilla gorilla and were split into 3 races. The Western Lowland gorillas in the Western Congo Basin, the eastern lowland gorillas, and the Mountain gorilla survive on the eastern side of the Albert Rift. In the countries where go (Rwanda and Uganda) we take tourists to See Mountain Gorillas.
The status of the western race is relatively secure with a population of about 80-90,000. Their populations can be found in Cameroon, the Central African Republic, the Democratic Republic of Congo, and Equatorial Guinea as well as areas in Gabon and the Republic of Congo.  The cross river race has about 5 fragmented populations in the protected area on the border of Nigeria and Cameroon. Poaching, hunting for meat, and clearing of the forests have led to the loss of these species and less than 1000 individuals survive here.
The Eastern gorilla race is split into 2 (The Eastern Lowland gorilla and the Mountain gorillas). The eastern low land gorillas survive in the Democratic Republic of Congo, with Kahuzi Biega National park having the largest population of these species. In the 1990's they were estimated to be about 17,000 individuals but due to unrest and poaching, their population is believed to have reduced by 50%.
The mountain gorillas are more precarious but with hope as their numbers are rising. These are rarer but more numerically stable. They have a global population of over 1200 split between Virunga Ranges amongst D.R. Congo's Virunga National park, Rwanda's Volcanoes national park, Uganda's Mgahinga Gorilla National park, and the rest at Bwindi Impenetrable National Park
The Mountain gorillas are distinguished from lowland gorillas by several adaptations to their high-altitude home, mostly visibly longer and more luxuriant coat/fur. This species is on average the heaviest of the others with the heaviest recorded being Guhondo, a dominant Silverback Rwanda's Sabinyo Group that weighed 220kg.
Mountain gorillas are highly sociable creatures and can live in groups of 5 to 50 individuals. With a group that consists of a dominant silverback male (Males backs turn silver when he reaches 13 years old). A group can have several silverbacks under the leadership of a dominant/Alpha male. It is not common for mammals to have a male who forms a focal point, but in gorilla society, a male leads. When it dies, the group usually disintegrates because of the other males that want to take over leadership fighting for dominance. Females reach sexual maturity at the age of 8, after this they can move from troop to troop several times but if it gives birth to any male, it usually stays loyal to the same male until death. They have a gestation similar to those of humans. A female can raise six offspring until old age.
Mountain gorillas are primarily vegetarian. Its dietary mainstay is bamboo shoots but they also eat leaves, shoots, and stems of different plants. 2% of their diet is also made of insects and other invertebrates with ants for proteins.
Gorillas spend most of their time on the ground but they climb trees and make nests in trees. Gorillas do not exist in captivity and there is no registered successful survival of one in any zoo because of their adaptation to high-altitude areas. They (Mountain gorillas) were critically endangered, and in 2019 they were declared by IUCN with a status "Endangered". 
Learn the difference between Mountain Gorillas and Lowland gorillas here.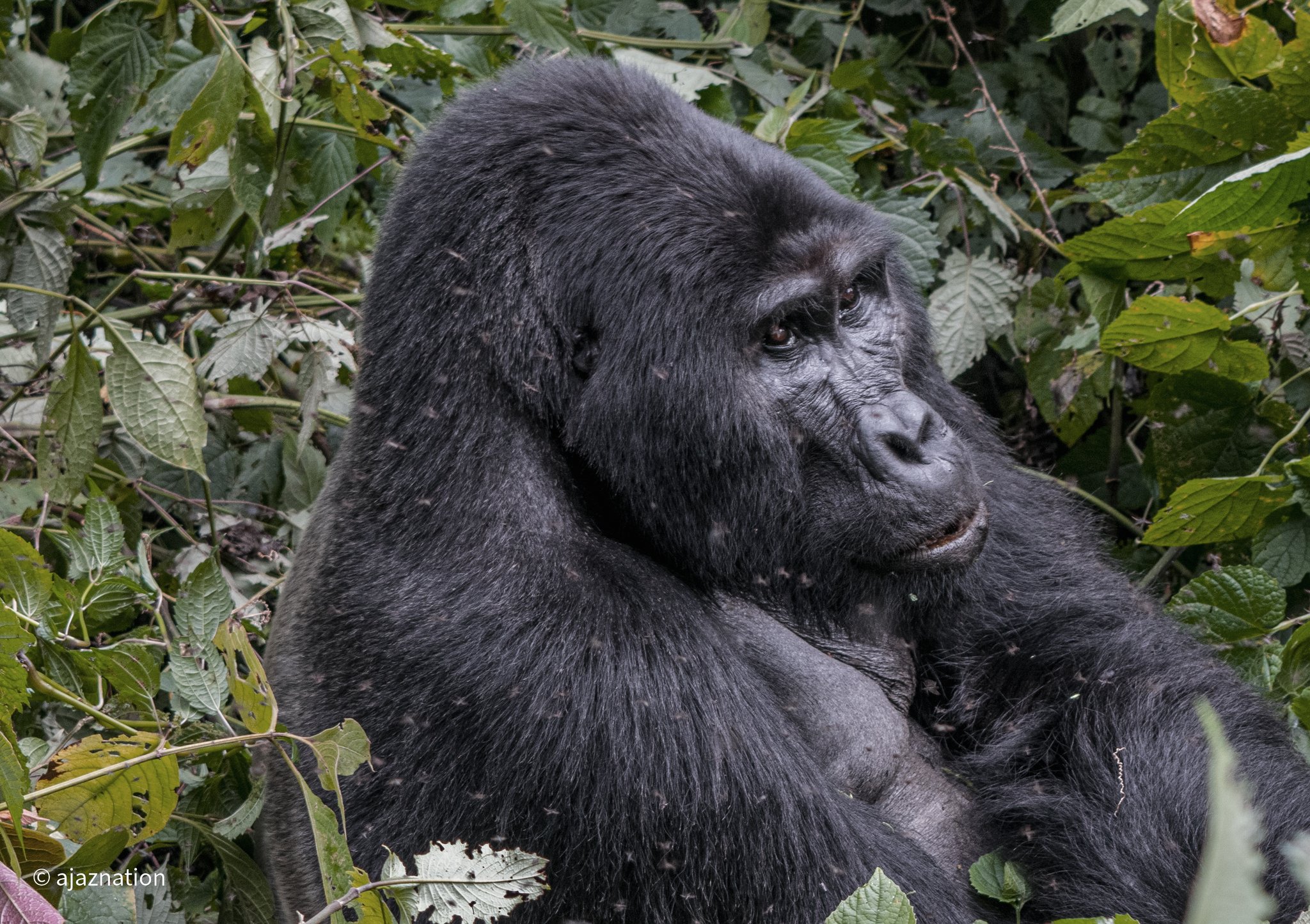 THE GORILLA TRACKING EXPERIENCE
Tracking the gorillas in Bwindi Forest or the Virunga ranges is an absolute highlight for any travel to the three countries that host these species. The experience of watching these apes is an exhilaration to the first sighting is difficult to describe and unforgettable.
Mountain gorillas are enormous animals that are up to three times heavier than an average human. Gorillas have a fearsome appearance but they are remarkably peaceful giants. Gorilla tracking would be a dangerous pursuit if the gorillas possessed an aggressive temperament of primates like baboons or Vervet monkeys.
The activity (gorilla tracking) takes place around 1400-2000m Above Sea Level at Bwindi Impenetrable National Park and closer to 3000m in the Virungas. This is enough to knock the breath out of someone from a low-altitude country. Gorilla tracking should not present a physical problem (serious) to any reasonably fit adult whatever their age, but the hikes can be tough. The factors that can ease this are luck, and how near the group you are tracking is from the trailhead on the day you are tracking. The tracking can take something from 3- 8 hours or the whole day. You can walk into the forest and in 15 minutes, you meet the group. The season you track also
affects the time. Rainy seasons affect the conditions underfoot (June to Early September, March to May are the wettest months).
On the tracking day, trackers meet at the relevant trail heads by 8.00 am where they receive a briefing on what to expect before they depart into the forest. Here you will get to know the group you are tracking as for the permits just indicate the region/trailhead. At the different trail heads 5 at Uganda's parks, 4 serve more than 1 gorilla group, and the one at Mgahinga Serves 1 group. The one at Volcanoes National park serves over 10 groups.
These are habituated Gorilla groups and trackers/advance teams are sent into the forest to get their locations and the guides lead on as they communicate with the trackers to know where they are located. The groups are distributed to visitors in groups of 8 visitors to watch each group. If you doubt your fitness, you can inform your guide to help and request for a group whose territory is known to be near (you be treated as someone with special needs) to have an easy trek. For the elderly and physically unable there are options to carry you to and from the forest on stretchers by porters. Read more about gorilla tracking for the physically unable. During the tracking, you should not be ashamed to ask for a break when you feel tired. Also carry plenty of water, a walking stick, quick calories, and energy-giving snacks.
The activity might be exhausting but 99% chances are guaranteed to see the gorillas so it's not in Vain for nothing. The feeling of exhaustion will vanish following the sighting of these Apes. At each sanctuary, ordinary trackers are permitted to spend 1 hour with the gorillas (those who sign for gorilla habituation experiences spend 4 hours).
During the 1 hour, visitors are allowed photography. Gorillas are a tricky subject to photograph as some don't settle. Flash photography is not allowed and you can carry a tripod and pre-program your camera as you possibly at ISO 800 for better image lighting. You should also carry waterproof protective gear (camera bag). If you are not a professional photographer, you can take a few shots and then enjoy the moment.
GORILLA HABITUATION EXPERIENCE
Gorilla tracking might be exciting, but an encounter with a semi-wild or semi-habituated group of these apes is much more. The Gorilla Habituation experience allows visitors to spend 3 hours more than the regular gorilla tracking. If offers the lowest cost per hour to watch gorillas (375 dollars an hour)
Mountain gorillas' previous history with a human was a gruesome one, and when wild gorillas see humans they usually shy away or be aggressive. The groups that are habituated are the ones that are open to tourism. Habituation gets the gorillas used to human presence thus safe for tracking without risking meeting an aggressive group.
Following the 1966 Research work that was started by the American Primatologist Dian Fossey, gorilla habituation started during the study to get these apes used to Human presence.  It is a process that takes time (about 5 years) to get a group fully habituated.
Rangers, doctors, and researchers spend periods with the gorillas daily at distances and slowly approach them until they get used to their presence. In 2014, Uganda Wildlife Authority introduced the Gorilla Habituation Experience, where visitors are allowed 4 hours with rangers, doctors, and researchers with a group of yet-to-be fully habituated gorillas. At Bwindi Impenetrable National Park, it happens at the Rushaga sector/trailhead. The experience is 800 USD much more than a normal gorilla tracking activity (1500 USD per person for a single time).
1993, Gorilla tracking started in Uganda, limited to a single group at Buhoma. Today 4 trailheads/sectors have different groups all around Bwindi Impenetrable National park. This allows about 152 gorilla permits/individuals each day.
A gorilla permit in Uganda costs 700 USD per person for Foreign Non-Residents. Foreign Residents pay 600 USD and East Africans pay 250,000 Ugx. For the case of Rwanda, a permit costs 1500 USD and 400 USD in D.R. Congo.
The price includes an armed ranger to protect you, tracking fees and part of this 10% goes to the community levy, 15% to the government central pool, and 75% is invested in the conservation of wildlife around the country.
If you are planning a gorilla tracking safari you can acquire a permit from Uganda Wildlife Authority for the case of Uganda and Rwanda Development Board for Gorilla Tracking in Rwanda. If you prefer to avoid the procedures included in the purchase, which might be stressing, that African Rock Safaris is licensed and able to process the acquisition of the gorilla permits.
Gorilla permits cannot be tentatively booked. All purchases made, must be paid for to reserve them. A permit sold is a one-time thing/ ticket and if the time for tracking passes and a holder has not tracked, it is deemed invalid. Unless you make a reschedule days before gorilla tracking or reselling at a lower price to someone tracking the same day.
A gorilla safari in Uganda can cost between 1500- 3000 USD for a 3 days safari by road in Uganda sleeping from a Basic to an up-market lodge at the edges of Bwindi Forest or Mgahinga Gorilla Park. This is for 2 people. In Rwanda, it goes from 2500 USD.
BEST TIME TO VISIT GORILLAS
Mountain gorillas survive in the high areas in the southern hemisphere and near the equator. The places here experience a tropical equatorial climate that is cooler and also tropical rain forests.
Gorilla tracking can be done all year round. But the best time to go is that that ensures comfortable conditions to hike through the dense forests. The 2 dry seasons June to September and December to February are the favorable ones. These make the roads easy to navigate, fewer rains make the trails less muddy. But the high season months and several tourists flock in for gorilla tracking.
This makes permits scarce so one planning a gorilla tracking safari in those days should book a permit 4-6 months earlier. Some engage in the activity in the Late September to November and March to May rainy/green/low season. These make the activity more adventurous with tough roads and trails to navigate. You can read here the Benefits of traveling in the green season.
UGANDA OR RWANDA-WHERE TO GO FOR GORILLA TRACKING
Rwanda has in the past 5-7 years grown its presence in the world as a Safari destination through partnerships with giant football clubs of Europe (Arsenal and PSG). The country's headline product is the mountain gorillas. This has created a common question among travelers (One of the FAQs we get) about where to go for Gorilla tracking between Rwanda and Uganda.
Both countries offer great gorilla tracking experiences. Our consultants usually give the positives in each country and the choice is always yours (the traveler) to weigh where you will go for the experience. It all zeros down to terrain, the requirement for fitness, driving distances, accommodation, entry to the country, and the price of the gorilla permits. The experience of seeing gorillas is not different because you are experiencing the same species.
Rwanda is more of a luxury destination. Their goal is to attract a few but with much returns and this is why there are fewer budget/basic accommodations in the country. A permit costs 1500 USD enough to do a budget safari in Uganda for pax more than 3 for 3 days. A permit in Uganda is 700 USD almost half the price in Rwanda.
The distances from the Airport and city (Kigali) in Rwanda to the gorilla sanctuary here which is Volcanoes National Park are short (about 3 hours from the city) which is less than the 9-10 hours from Kampala/Entebbe to Bwindi or Mgahinga Gorilla National park in Uganda.
Uganda offers a chance to fly to break the distances or combine the gorilla tracking experience with other parks in the same circuit like Queen Elizabeth (62km north of Bwindi) and Lake Mburo National parks. Also now with the borders open, you can't enter Uganda through Rwanda and track gorillas in Uganda and then go back to Rwanda. This can be achieved by getting an East African Tourist Visa (this reduces the driving distance). This can help reduce the driving distance on the Ugandan side and also enable tracking for a permit that is cheap and also explore 2 countries at once.
With this, you can plan where to see mountain gorillas between the 2 counties.
WHAT TO PACK FOR GORILLA TRACKING
The weather can be cold in the areas that host the gorillas even when it is not a rainy season. The mornings and nights can be cold and when it rains the roads and trails can be muddy. So here is what to pack as you prepare for a gorilla-tracking safari.
Sturdy walking shoes for the trek (boots and waterproof)
Long trousers
Long sleeved shirt
Sweatshirt/ jersey
Sweater
Rain jacket
Hat and sunglasses
Insect repellant
Sunscreen lotion
Spare batteries, enough storage cards, waterproof protection for your gadgets
Gloves and stocking.
GORILLA TRACKING RULES AND REGULATIONS
Trackers are advised to keep a 7 meters distance from the gorillas but this is no rule for the gorillas as they can come close to you. But when they do you can move.
You can take many pictures as you can but you shouldn't use your camera flashlights.
You cannot drink or eat while you are with the gorillas.
Gorillas have a 98% DNA almost human and this puts them at risk of catching human infections if you have a cold, flu, or any other contagious or respiratory disease you cannot track gorillas.
Be of good health mostly free from cold and flu as these can be transmitted to the gorillas since they have a DNA almost similar to that of humans at 98 percent.
One must be above the age of 15 years so if you are planning a gorilla tracking trip, the children below the age of 15 can opt for other activities the parks have to offer.
And of course, a traveler with a valid gorilla tracking permit can track the gorillas.
For a gorilla tracking safari contact us.
Ask Our Experts
Request for a Gorilla Safari Quote
CUSTOM GORILLA TRACKING SAFARIS