Nyungwe National Park is the archetypal tropical rainforest in the southwest of Rwanda. During the 45th Session of the World Heritage Committee that concluded on the 25th of September 2023, that was in Riyadh, Saudi Arabia saw 42 new sites inscribed and 5 approved to be extended on UNESCO's World Heritage List. Of the 42 new sites, Nyungwe National Park came among them and is now a World Heritage Site. 
Nyungwe is a serial property and represents rainforest conservation in Central Africa and is home to diverse flora and fauna with a diverse ecosystem of intact forests, peat bogs, thickets, moor, and grassland. It is a significant habitat for a number of species including the Threatened Eastern Chimpanzees, and Hills Horseshoe Bat. It hosts a number of mammals and birds of which 12 mammals and 7 bird species are globally threatened. It is one of Africa's oldest rainforests and became a national park in 2005 after it had been established as a natural reserve in 1933 and spreads over 1020 sq km. 
UNESCO World Heritage Sites
These are cultural and/or natural sites that are considered to be of the greatest or outstanding value and have been inscribed on the list of World Heritage by the committee. They are thought to have special importance to everyone across the globe. The new inscriptions bring the number of UNESCO World Heritage sites to 1199 across 168 countries.
Nyungwe National Park is now a UNESCO World Heritage Site and this is decisive for African heritage because it brings the continent to a milestone of 100 sites including Rwanda's other inscription of the Genocide Memorial sites at Nyamata, Murambi, Gisozi, and Bisesero. The session also marked the Removal of Uganda's Kasubi Tombs from the list of World Heritage Sites in Danger, which is a big win for the culture, heritage, and history of Eastern Africa.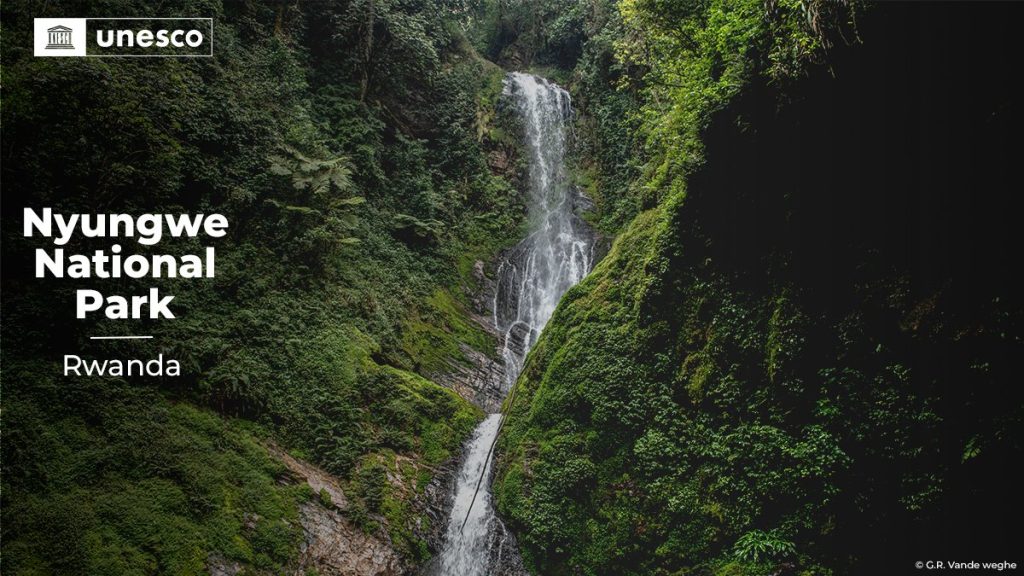 To do at Nyungwe National Park
Primate Tours
For primate lovers, Nyungwe is an ideal destination. It hosts 13 primate species and most visitors go for at least one tracking experience during their stay here, but the most popular ones are the Chimpanzee and Colobus monkey tracking. Chimpanzee tracking starts very early in the morning (5 a.m. Rwanda Time) and trackers go in groups of 8 as it is with gorilla tracking. After locating them, an hour is allowed in the company of a community. The sightings of Chimpanzees at Nyungwe are not as reliable as their counterparts: mountain gorillas at Volcanoes National Park.
This is because of their nature (playful and always on the move) and the nature of the forest (dense canopy). Away from chimpanzees, you can track the Grey-cheeked mangabeys and the Rwenzori Colobus Monkeys. Other primates like the l'Hoest's monkeys can be seen ambling along the roadsides as you drive through the forest. 
Forest and Canopy Walk
Nyungwe Forest has over 130km of hiking routes and trails. These allow visitors to explore the interior of the park and its habitats.
The Igishigishigi Trail is one of the park's shortest hikes and includes the canopy walk that is East Africa's highest. More out the canopy walk read here.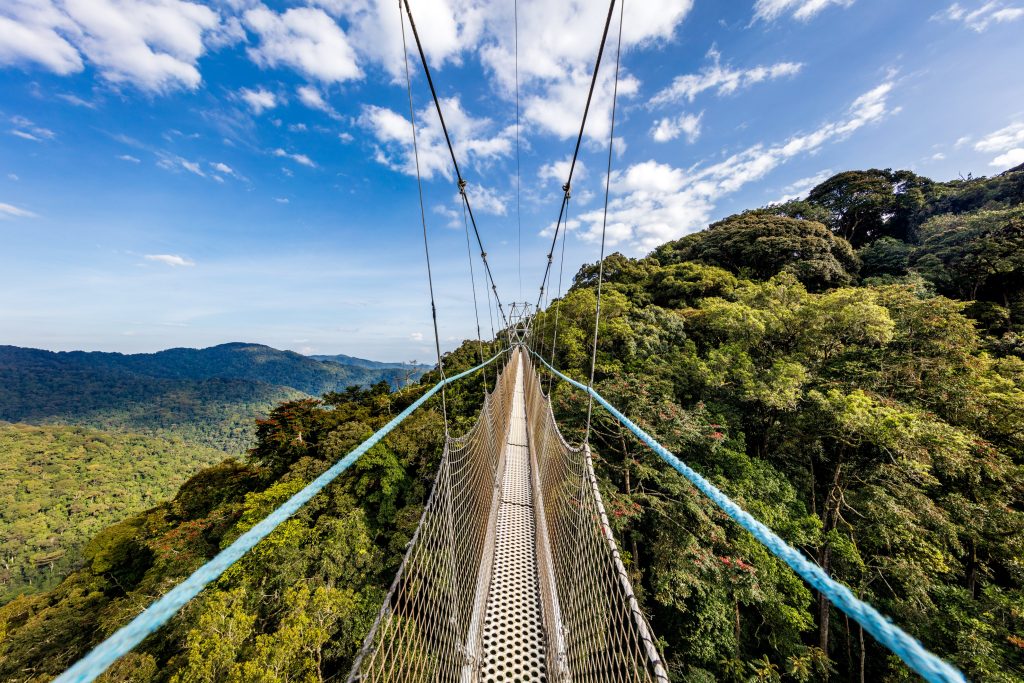 Bird Watching
Nyungwe has around 310 bird species and some of these are spectacular species of the Albertine Rift area and others endemic (27 species are endemic to this section). Although as in most forests, bird watchers have to look hard for these glittering prizes, some are giants like the Great Blue turacos, and sparrow-hawks, among others. 
There is a lot to do around Nyungwe, visiting the communities, Gisakura tea estates, and coffee factories and it is also about an hour's drive from Lake Kivu- Gisenyi. Check out our adventures through Rwanda which include stays at Nyungwe National Park.
This is a 14 days Rwanda and Uganda Safari, it explores Kigali, Nyungwe, Lake Kivu and Volcanoes National Park before crossing to Uganda.
https://www.safaribookings.com/tours/t27397
These are 9 days only Rwanda, going to 3 of Rwanda's National Parks, including Nyungwe https://www.safaribookings.com/tours/t47918
Others follow this link https://africanrocksafaris.com/ba_locations/rwanda/