Having time with a family of mountain gorillas in the wild side of Africa's dense rainforests is a magical wildlife experience: nothing can better get you ready for their sheer beauty and brawn, the astonishingly human-like expressions, or their extraordinarily gentle demeanor. The encounter with these primates is a special one and normally lasts just one precious hour, but at Uganda's Bwindi Impenetrable National Park-Rushaga sector, Uganda Wildlife Authority is offering an extended experience that is not gorilla tracking but allows much time with Mountain gorillas. 
About Mountain gorillas
Mountain gorillas have been endangered, but the recent statistics indicate growth in the population, and over 1000 or so survive in the rainforests of Uganda's Bwindi Impenetrable & Mgahinga Gorilla National Parks, and the Virunga Mountains that span the borders of southern Uganda, Rwanda and the Democratic Republic of Congo. In Rwanda, they are at the Volcanoes National Park and Virunga National Park in DRC. You can find mountain gorillas anywhere else in the world not even in the zoos and their survival and population growth is one of Africa's top and successful conservation stories.
George Schaller was the first to research gorillas in the late 1950s but it was the American primatologist Dian Fossey who brought the plight of these primates to international attention, studying them for 18 years in Rwanda's Volcanoes National Park. She lived in the forest with a camp at Karisimbi, worked to raise funds for rangers, and protected the gorillas at all costs until her murder in 1985. At that time, she had estimated just 250 gorillas to be surviving, under threat of habitat loss, extensive poaching, and the crossfire of civil wars. The newly constructed museum "The Ellen DeGeneres Campus of the Dian Fossey Gorilla Fund" in Rwanda has most of what remains of Dian's works.
To fund conservation efforts of these species of Gorillas at Bwindi Forest, gorilla tourism started in 1993, with the Mubare group becoming the first gorilla group to be fully habituated, or familiarized, and open to visitors to see these primates in the natural setting. Now the park has set another new precedent, creating an experience for visitors that involves visiting a semi-habituated group of gorillas with the company of researchers, rangers, and guides – and it provides a fascinating insight into one of the world's most endangered animals and for the best price per hour (1500 USD for 4 hours).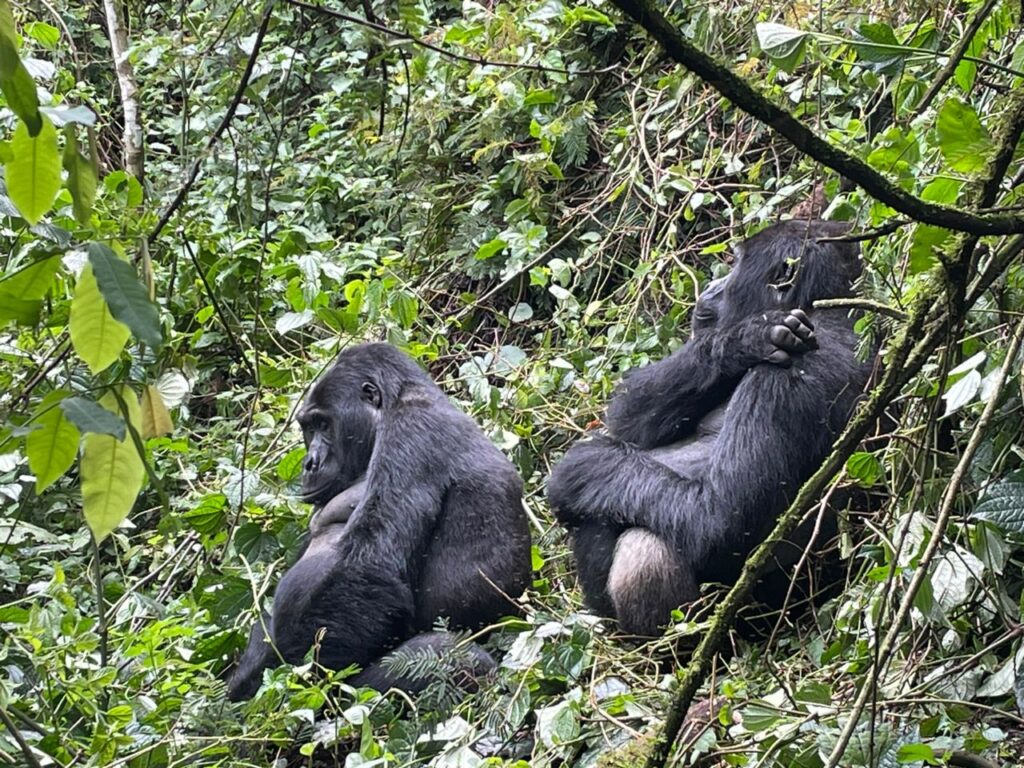 The Gorilla Habituation Experience
Wild Gorillas aren't always so calm in the presence of humans: it takes effort and time to achieve this relaxed, almost nonchalant attitude. The process is gorilla habituation and it is one of Bwindi's most exciting gorilla experiences that allows you to be part of this process by going to a group that is only semi-habituated.
During the gorilla habituation experience, trackers visit a group of gorillas that is wild every day for around three (3) years, gradually getting closer and spending longer in the company of gorillas. When the gorillas get to the semi-habituated stage, they are familiar with trackers (people who follow them daily from where they slept at night) but not strangers/tourists, so this experience can now help them get used to seeing different people.
In ordinary gorilla trekking, trackers go ahead of the tourists and guides and as you walk in the forest with a ranger the trackers communicate with trackers about the location of gorillas and so, you walk directly to where gorillas are (trekking). For gorilla habituation, tourists walk with trackers to the point where gorillas were left the previous evening. You walk with trackers, as you learn the art of tracking gorillas, and at the nests where they slept last night, researchers collect samples of dung, also to know how many were in the group, before you continue the tracking.
When you find the gorillas, the challenge begins and it so to have them in your vision because, unlike the fully habituated gorillas that give you the best of one hour, these semi-habituated ones are fast movers and you have to keep up with them as they move.
Gorillas are wild (even the fully habituated), but some are wilder. The fully habituated, semi-habituated, and wild ones are all unpredictable and the risk of silverbacks charging at you is high, but they usually warn first than just attacking.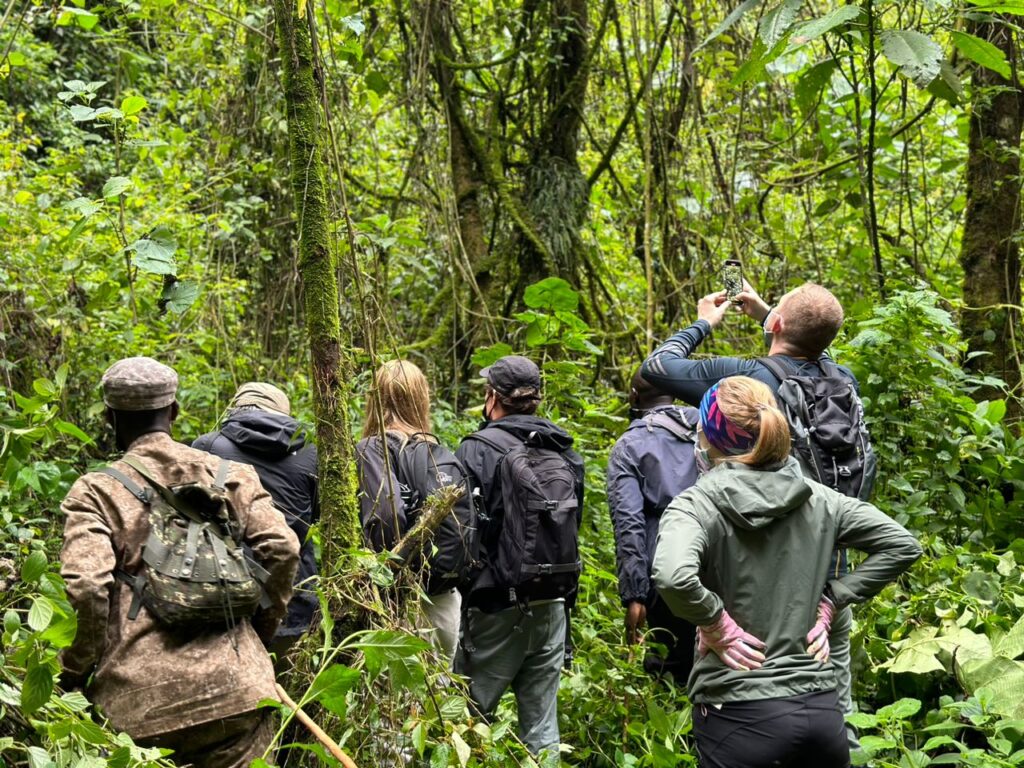 So, it is on you to choose which one you go for, but before you do, consider the below: –
– The normal gorilla tracking costs 700 USD at Bwindi and Mgahinga gorilla national Parks and an eyewatering 1500 USD at Volcanoes National Park in Rwanda, and guarantees you see these apes up-close and personal for one hour.
Gorilla habituation, on the other hand, costs 1500 USD and allows four hours from when you get to see the gorillas. You may even not get so close to the gorillas as in the ordinary tracking but you learn a lot about these gentle giants. It is more insightful and immersive.
-Gorilla tracking is done at 4 sectors (trailheads) of Bwindi (Ruhija, Rushaga, Buhoma, and Nkuringo), and each group is visited by a max of eight (8) people. Gorilla habituation, only takes place in Rushaga- the southern part of Bwindi and one group is available. A group is visited by four (4) pax and permits are difficult to get.
Book your gorilla experience here.