On the foothills of the volcanic mountains in the Virunga Ranges, is the only world population of Golden Monkeys. The Golden monkeys (Cercopithecus mitis kandti) are species of old world monkeys, that are found in D.R. Congo, Uganda, and Rwanda, and here it is in Uganda and Rwanda where golden monkey tracking takes place.
They are some of the little-known primates of Eastern Africa and a sub specie of the blue monkey. They stay in the same area as mountain gorillas but at lower altitudes. They are gorgeous compared to other monkeys and fun primates to watch and they inhabit an interesting environment in the mountain zones- The Bamboo Forests. Golden monkeys are endangered and their population is between 2000 and 5000 and live in troops of 100s led by an alpha male. They are fast-moving primates characterized by their bright golden body, tails, cheeks, and contrasting black limbs, crown, and tail end.
The Tracking
Being a golden monkey and staying in the same habitat as the mountain gorillas, makes it tough for you to seek attention from travelers. Golden monkeys don't gather much fan base even if they try hard to be strikingly beautiful and playful.
Golden monkey tracking just like gorilla tracking starts in the mornings. Your guide will drive you to the park offices at Kinigi for Volcanoes National Park and Ntebeko for Mgahinga Gorilla National Park in Uganda (Kisoro).
Here, you join a group of guests that are going for golden monkey tracking (8 people) and you will be led into the forest by a trekking guide and an armed ranger. You don't require to be super fit to track golden monkeys because the golden monkeys occupy the lower slopes that are bamboo covered but the general level of fitness does help. They (golden monkeys) are swift and do not settle like mountain gorillas. If you have a big backpack and cameras, you can hire a porter (for about 10-20 dollars) to accompany you on the trek and help you where it gets tricky and strenuous or you can do it for community support because the porters are from the community.
The duration you spend inside the forest depends on how first you locate the monkeys. As earlier said, they are always on the move, and sometimes it may take time for trackers to locate them. Once you get to the monkeys, you are allowed an hour (maximum) with them before trailing back to the visitors' center.
In Rwanda, at Volcanoes National Park, there are two groups that are habituated for tracking (open to human presence) and in Uganda, there is a group available for tracking and another for habituation/experiential activity.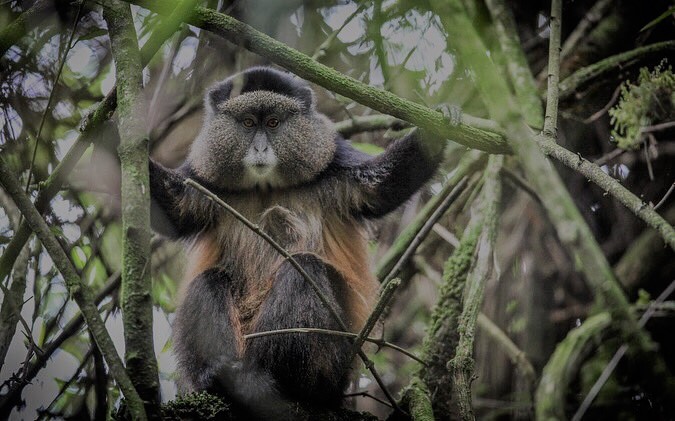 Golden Monkey tracking permits (Price and how to get them)
Even during the high and peak seasons, permits for golden monkey tracking are available because these are less known (not famous) yet they can make a good stand-alone activity. Permits are 100 USD in Rwanda (Volcanoes National park) and can be got online or by emailing Rwanda Development Board. This is equivalent to the habituation/experiential activity in Uganda at Mgahinga Gorilla National Park and the normal golden monkey tracking is 60 USD Dollars. You can get these online from the Uganda Wildlife Authority or through a tour operator or Destination Management Company like us. This is minus the park entry fees.
Despite their availability, we recommend purchasing them before/early prior to the start of the trip to be on the safer side. We can help to make all the necessary arrangements to secure the permits for this excursion.
For those that want to engage in the activity, the best months to visit, are the drier months between December and February or Late May to early September. The rest of the months are wet and maneuvering through the forests may be hard.
Photographing golden monkeys
Monkeys are some of the hardest subjects to photograph. Just like other monkeys or photographing athletics, golden monkeys can present a challenge to photographers. For gorilla tracking, no flashlights when photographing golden monkeys, and also the lighting can be poor inside the forests but most of all they don't settle.
The environment isn't for a tripod. You either use a monopod or gimbal stabilizer and an 80-200mm zoom lens can be good together with high ISO settings. Also, remember to carry what to protect your equipment from the rain.
The experiential/ Habituation experiences at Mgahinga Gorilla National Park.
Not many know a lot about these golden monkeys. For visitors that would like to know much more than just watching and understanding these primates, this new product at the park can give exactly that.
You can join a team of researchers, rangers, and guides for a day with the golden monkeys as they study their behavior and do research on how to save them from their endangered status and improve their conservation and reduce the challenges they face in this 21st century.
The experience also gives more time than the normal golden monkey tracking session.
Note: African Rock Safaris can arrange the excursion as part of a full itinerary to Uganda or Rwanda. You can see our tailor-made trips to Uganda or Rwanda.