Uganda Safaris/Tours are about 90% nature/wildlife based, but the country's urban areas have a lot to offer to people that come in from more organized cities. In Kampala's suburbs, tour operators work with community leaders or community transformation groups for tourists to explore Kampala city's areas with the most vulnerable people- slums on the Kampala Slum Tours.
The nature of Kampala Slum tours can be contentious, but we operate them with either local leaders or locals that have grown up in these areas. The 3-4 hour visit sheds a light on the living conditions in these slums. Viewing these slums from a distance gives a question of how people deal with life in these slums or how one can locate their room in such an area (congested). One has to squeeze through the corridors, jumping trenches, to find a way through these settlements. Strangers can easily lose their way here. Most of the houses in these slums are temporary, cheap, and small so they are affordable for low-income earners.
These areas usually lack access to sufficient safe water, adequate sanitization (private or public toilets/restrooms), security, and a supply of power (electricity). The housing here is unplanned and contrary to the Public Health Act that approves construction because they lack all these utility supplies. This exposes the residents of these areas to diseases due to poor sanitation. Also, poor access to these slums is worrying.
Kampala city is a famous city. Known for its nightlife, city chaos, history, and forested city. From end to end the city is full of wonder and busy like any other African city. Originally, the city was built on seven (7) hills in 1962 (Old Kampala, Kibuli, Nakasero, Kasubi, Mengo, Kololo, Rubaga, and Makerere) but it has continued to expand to about 8,451.9 km2. The more it has expanded, the more number of people it attracts (Rural-urban migration) and increasing the growth of these slums.
The outskirts and inside the city has slums that harbor about 60% of the city population. The slums host native Ugandans, Somalis, Rwandese, Eritreans, and other different people from the rest of Africa. There are some slums that are very common. In this write up we give a hint about the famous ones that you can go to for a Kampala Slum Tour.
SOME OF THE SLUMS TO VISIT WHILE ON A KAMPALA SLUM TOUR
Bwaise Slum
The Bwaise Slum is one of Kampala's largest slums. It is on the outskirts of Makerere Hill one of the city's commercial townships. It is bordered by Kawempe, Kyebando, Mulago, and Kasubi. It is about 5km from the city center. Bwaise is exposed to flooding and waterborne diseases. Busy tiny shops welcome you to the slum. Characterized by poor structures, and trenches, around them rises a stench of waste (human and household) due to poor disposal, but people survive here without a twitch.
Katanga Slum
Katanga Slum is in the floodplains between Mulago and Makerere Hill. About 20,000 people survive in the temporary structures here. Slim drainage channels with open sewerage weave amidst the houses here. They are always stagnant until heavy rains disperse the sewerage.
There are lots of small businesses here that sell foodstuffs, stalls for cooked food, small bars, and restaurants. Homes usually double as workplaces, and noise from multiple speakers and video libraries, all make the environment here. Life here isn't the best but the community is a happy one, though most would want to leave the life (they keep positive). Crime, sewerage, and others would lure children into negativity and other things of the same.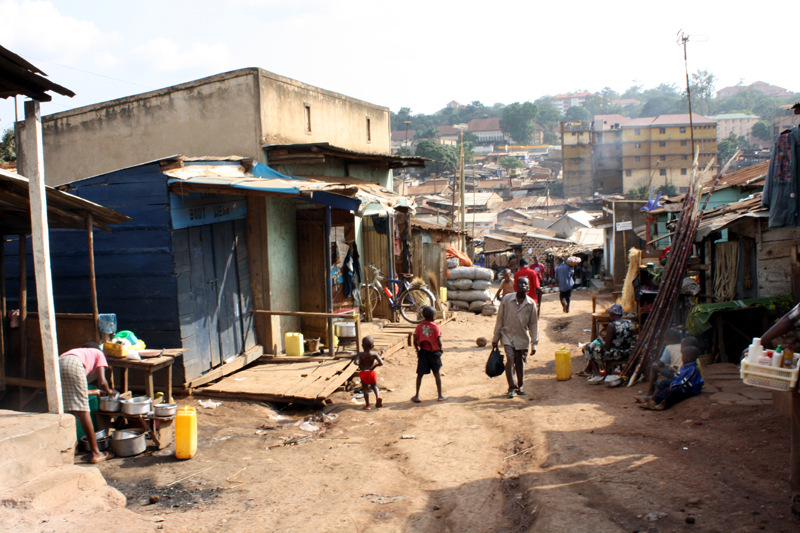 Kisenyi Slum
Kisenyi slum is in the middle of Kampala city, bordering Mengo, Old Kampala, and Nakasero. The downtown slum is congested and has a blend of Ugandans, Somalis, and other migrants/asylum seekers. The dwellings here are as in the other slums, temporary, with a combination of unburnt bricks, mud, and poles, and are subjected to harsh weather. The area is overcrowded and a world away from comfort. Stepping foot here is a sight to behold.
Slums have always been blamed for failure in city development, but Kisenyi is a beehive for activities and businesses.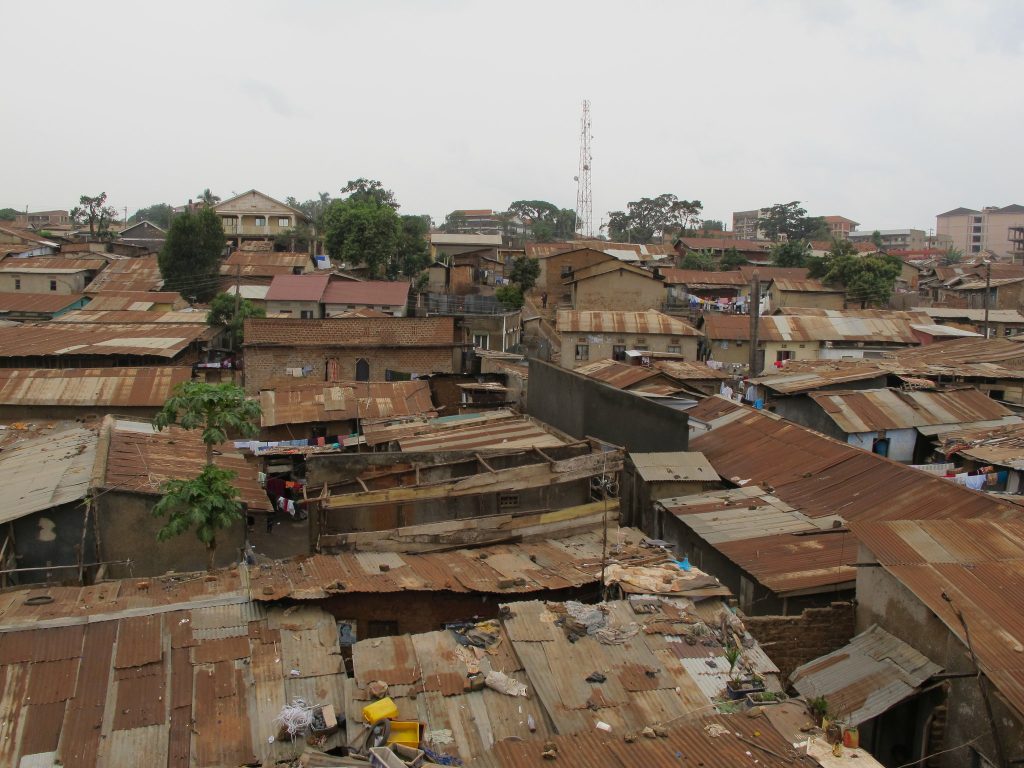 Kamwokya Slum
Bordered by Kololo, Bukoto, Ntinda, and Mulago, Kamwokya is a famous slum and at one time it was Kampala's biggest slum. It is dotted with poor housing infrastructure that is in the middle of multiple flat buildings that are linear (near the roads), and prone to flooding, due to blocked drainage and poor disposal.
There are lots of talents in this area and a hub for all those that think have a talent in either music, boxing, or football, with their Idol being Bobi Wine of the Fire Base Entertainment who grew up in the Ghettos of the Kamwokya Slum.  The area is getting transformed, on the streets, it shows growth/development but inside it, it still exists. It is no longer the leading slum it was.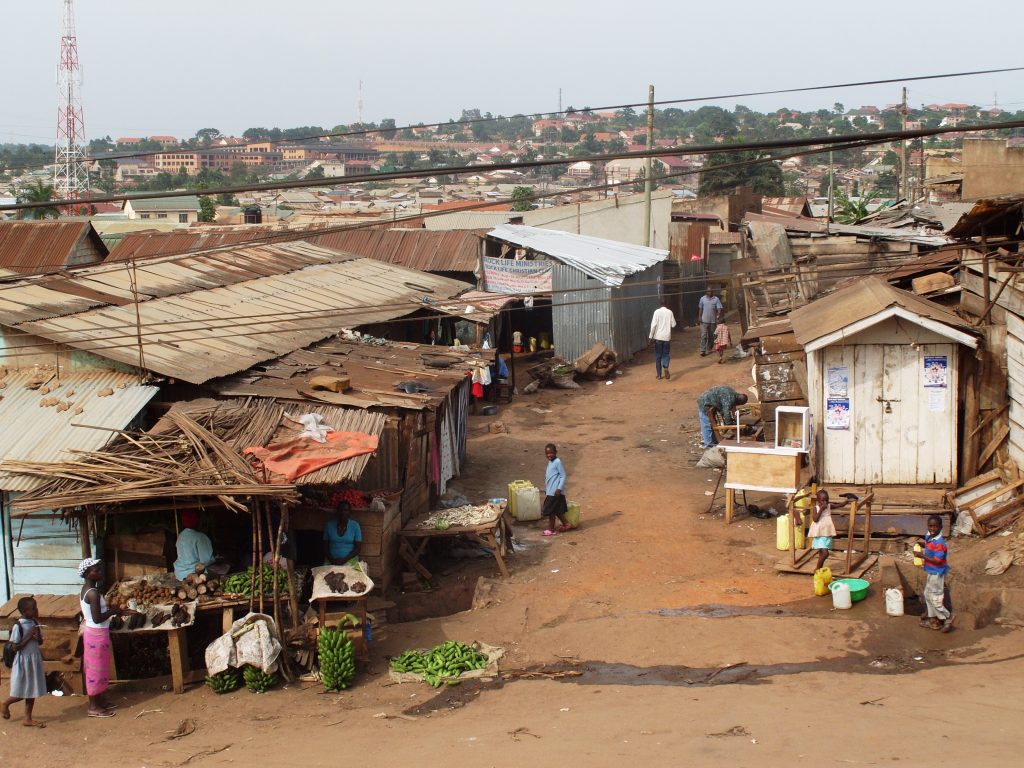 Nakulabye Slum
This is in the Rubaga division, below Kasubi hill. It also has a neighborhood of some working-class people and businesses. It is between Makerere Kikoni and Kasubi. The Kiyaye and Kiwuunya zones of this slum are the notorious parts of the slum. The hood never sleeps, it has various bars, nightclubs, and food points.
Kibuli Slum
This is one of the old hills of Kampala (the 7 hills). The hill is largely populated by a Muslim community. It is bordered by Muyenga, Mbuya, Kabalagala and Nsambya. In the 1980's it was a bushy area, now it has an estimated over 3000 people surviving here.
Katwe Slum 
The 2016 American biographical sports film "Queen of Katwe" made the slum even more famous. The film is about a local girl who grew up in the slum rising in the game of chess putting the Makindye division slum to fame.
Katwe is a center of Uganda's ingenuity with artisans, technicians, and craftsmen. These improvise to make machines of the same use as those that are factory-made in Europe usually referred to as "Magezi Ga Baganda". The slum starts right from the railway tracks that go from Kampala to Kasese. The area is slowly turning into a respectable business area.
The Kampala Slum tours immerse you into the lives of the most vulnerable city dwellers. Uganda is best known for the wildlife and sheer beauty of the features like lakes and mountains. For people living in Kampala Slums, this description of Uganda is not what they see.
It is unfortunate that people live in such conditions in Kampala city. They are exposed to everything bad, calling them names, and negativity from the rest of the community as they are labeled as criminals, among others. Some of these areas have different community groups that are helping to transform the lives of people in these communities by engaging them in sports (boxing, football), games like chess, and Entertainment (music), among others.
We encourage supporting these areas and visiting them for those that love to. These tours are for a cause. Locals are warm, and interactions and witnessing life is hard to swallow. But one thing you will witness is the positivity of the people. Request for a city tour that combines the famous city attractions and a visit to one of the slums. Click here.