Chimpanzee trekking in Uganda is one of the popular and exciting primate watching activities that you can include in your Uganda Safari and turn into your life experience. Genetically chimpanzees are close relatives to humans with a 97.8% DNA match. They are native to Africa's tropical forests and savannahs across Equatorial Africa.
Around 300,000 chimpanzees are left and in Uganda's forests there is a population of about 5000 individuals left and the largest population is at Kibale National Park. Kibale National Park is one of Africa's most prominent primate sanctuaries with 13 primate species along with Bwindi Impenetrable national park which is famous for Mountain gorillas.
In this chimpanzee trekking in Uganda article, we will share what you need to know about the activity in Uganda, where it is best done or where you can do it and best done, the price of chimpanzee tracking, the experience, and the best time to do it.
The Chimpanzee tracking experience.
A walk with a professional ranger/guide through the natural forests to look for a habituated group of chimpanzees following communication with advanced teams to locate them is an experience but a lot entails this activity, it's not just entering the forest. Groups of trekkers set off daily at the particular trekking points at Kanyanchu and Sebitoli at Kibale forest (8 am and 2 pm), at Kyambura Gorge in Queen Elizabeth national park, Kalinzu forest reserve, Budongo Forest which is part of Murchison Falls Conservation Area, Bugoma Forest, and Toro Semliki Game reserve. These receive a briefing from rangers on the rules and how to behave before starting the walk on the forest floor to search for these primates.
Once trekkers get to the chimpanzees, they are allowed an hour for watching and photography. The chimpanzees are habituated and used to human presence therefore not violent and safe to watch. But you are advised to take caution and keep your distance and not tease them because they remain animals and their feelings must be respected. You can see them feed, play, cuddle, swing to different trees, and sometimes rest on the ground.
At Kibale Forest, there is also a Chimpanzee Habituation Experience (CHEX) that allows visitors to spend a day with these primates. You get a chance to learn more about the chimpanzee (tracking, monitoring, and behavior).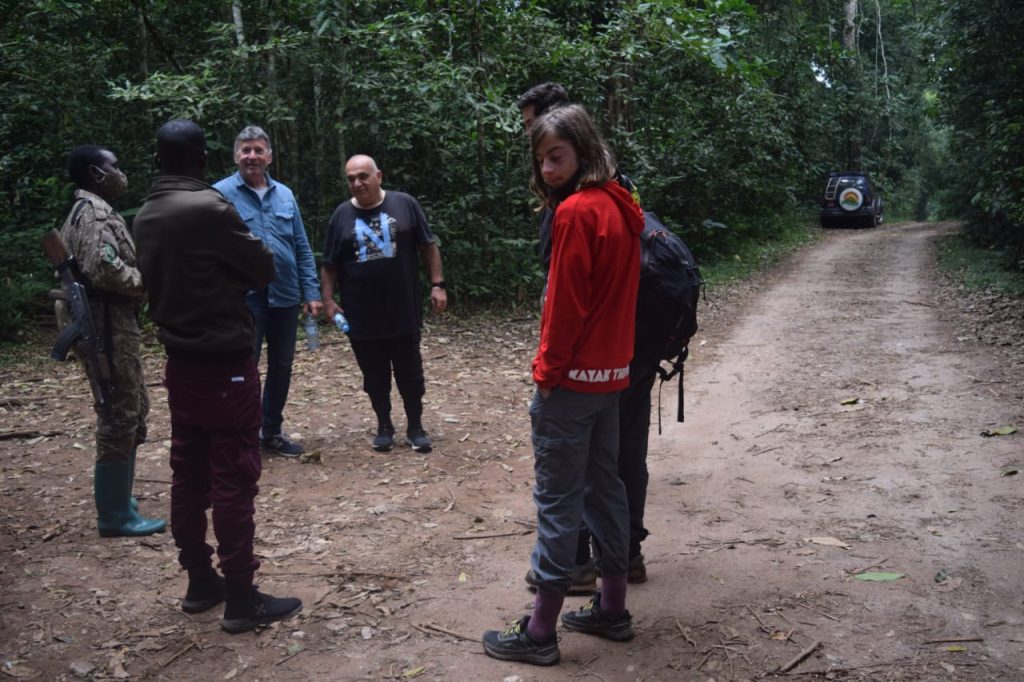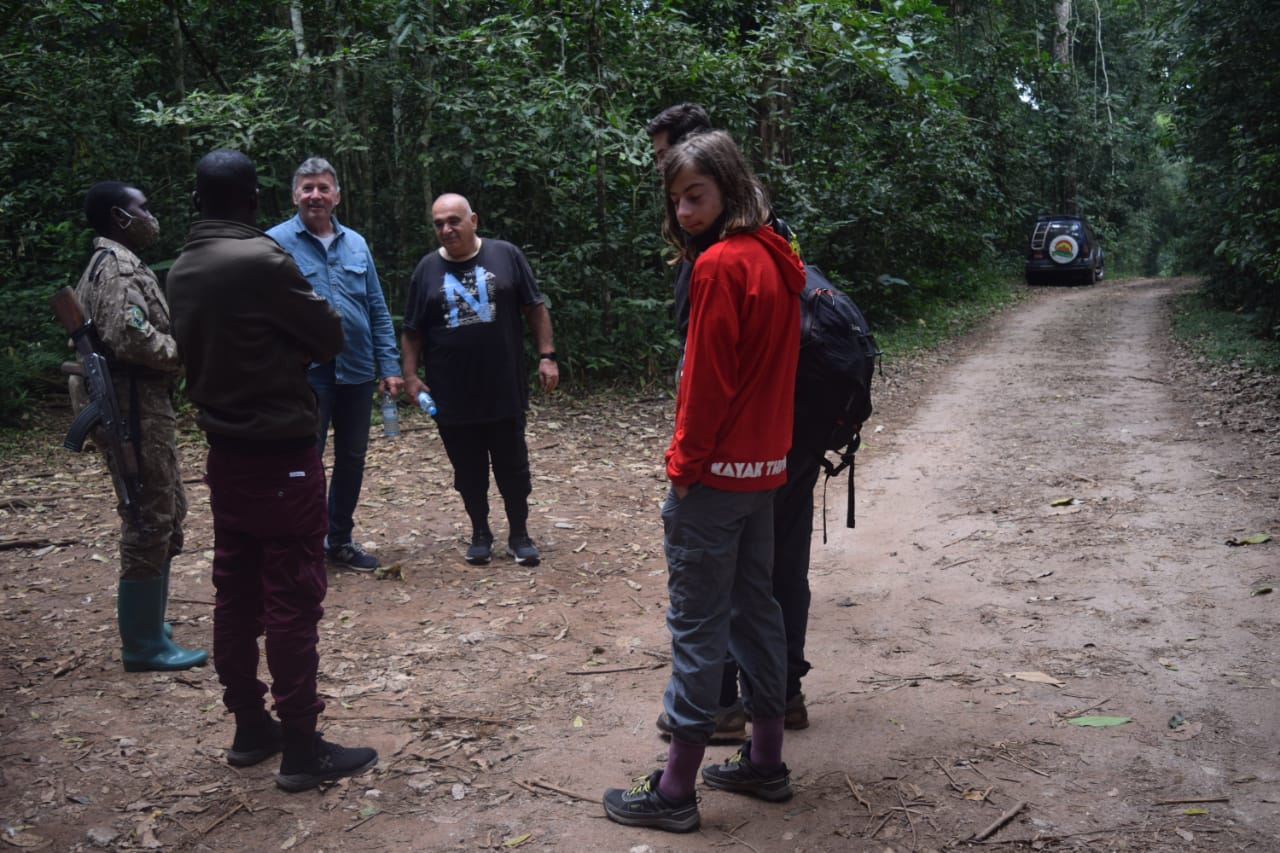 Where to see chimpanzees in Uganda?
As said in the introduction, over 5000 chimpanzees (Eastern chimpanzees) are spread in a few main forests/destinations (these are the main and offer the chance to see these primates). They are Kibale National Park. This is Uganda's number one spot for chimpanzee trekking and guarantees 95% chances of seeing these primates. Kalinzu Forest Reserve on the Ishaka-Kasese Road is the second best place in Uganda to see chimpanzees in Uganda, then the Kyambura Gorge at Queen Elizabeth National park, Budongo and Bugoma Forests, and the Toro Semliki Game Reserve.
In addition to these are the Uganda Wildlife Education Centre and Ngamba Island Sanctuary on Lake Victoria that host orphaned chimpanzees and those that have been rescued from traffickers. You can book chimpanzee watching and tracking experiences through us by filling out the form here or through your tour operator.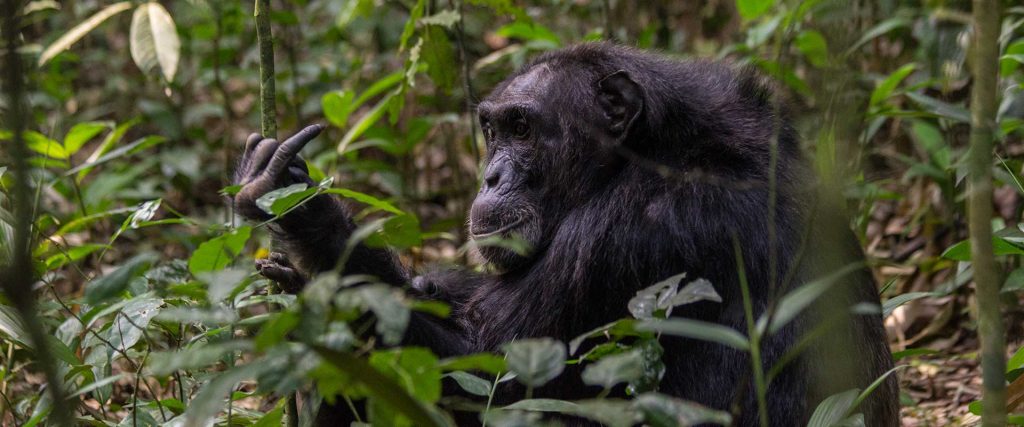 What is the price of chimpanzee trekking in Uganda?
To see a chimpanzee, one needs to purchase a permit. The rate of a permit includes guiding fees and the prices differ/ vary at the different tracking destinations and from the kind of visitors. There are prices for foreign non-Residents, Residents, and Foreign Residents. At Kibale national park a permit is 200 USD for Foreign Non-Residents, and 150 for foreign residents. At Kyambura it is 50 and 40 USD, 90 USD at Budongo, 60 dollars at Kalinzu forest. Permits for Kibale and Kyambura Gorge can be purchased from Uganda Wildlife Authority or through your tour operators and others can be paid for at the different trekking points/ destinations.
In the high season of June to September and December to February permits are sold out sometimes or limited because of the large number of visitors, so during these days you need to buy the permits in advance. You can best get them through your operator.
Best time to go for chimpanzee tracking?
Chimpanzee trekking in Uganda can be done all year round, but the dry months of June to September and December to February give a better chance to do the activity because of fewer rains and ease in walking through the forests, and better weather, though the numbers of visitors are always high. Some lodges are congested and even at the visitor's center. The wet months of March, May, and November are less crowded.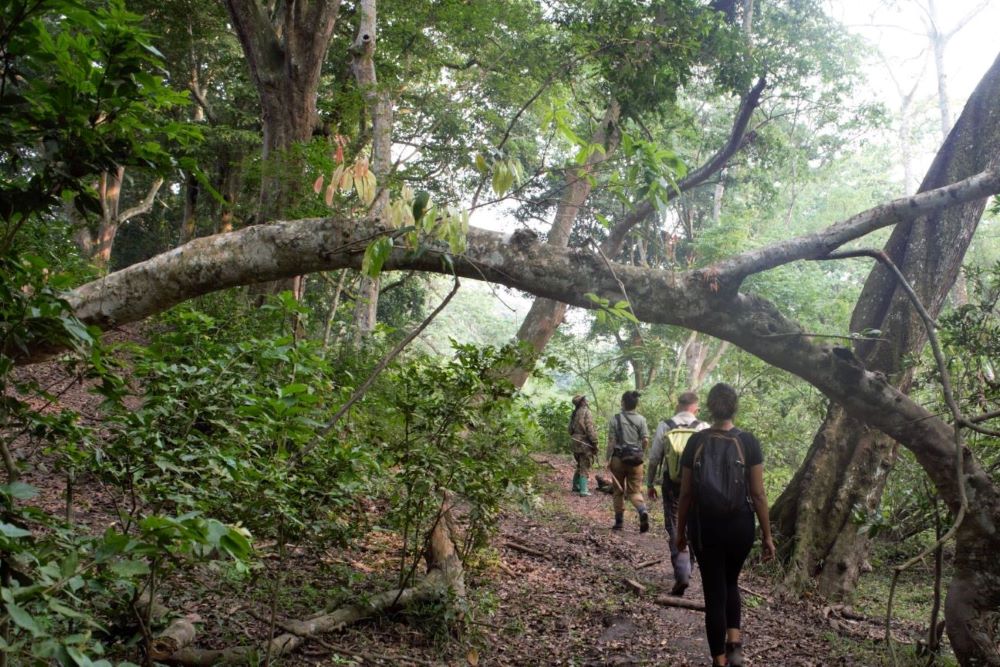 Chimpanzee tracking is safe and visitors are provided with armed rangers who give instructions during the tracking. Not everyone can engage in the activity. One must be 12 years and above and must be healthy despite it not requiring fitness and health statuses like those of Gorilla tracking because the terrain is not steep (Less hiking is involved). For health, you shouldn't have airborne diseases because primates are/can be susceptible to some diseases that affect humans.
Trekkers should also make sure they are well prepared as they plan their chimpanzee trekking experiences. Make sure they are healthy, have the right clothing like rain jackets, hiking boots, light, and long-sleeved shirts/t-shirts, trousers, gloves, hats, sunglasses, insect repellants, enough drinking water, packed lunch, and of course your camera to capture the thing you meet on the trails.
By tracking chimpanzees, you contribute to the conservation of these species. 20% of the fees collected are invested back in community sensitization and education, different community programs to combat human-wildlife conflicts, and also pay rangers and law enforcement.
Travel to these forests is more than chimpanzees and a visit to Uganda is more than these primates and gorillas. You can have a great experience by merging these with other beautiful places in the country. Uganda is a good destination to see the Big 5, primates, and birds, and offers some great hiking destinations at Mt. Rwenzori, Elgon, Mgahinga gorilla National park, and Moroto.
Reach us for your chimpanzee trekking safari in Uganda or a combined safari with multi days or check out some of our tours that include chimpanzee tracking here.