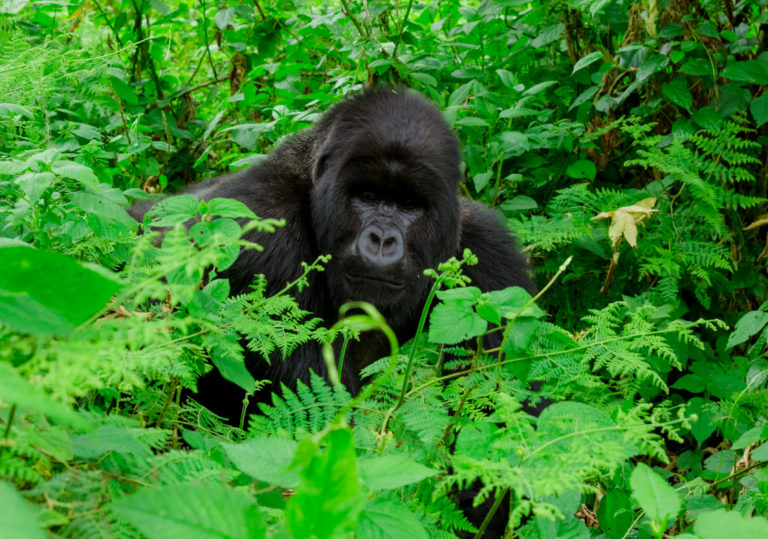 There are several wildlife experiences, but none compares to sitting on the floor of a natural forest with a family of Mountain gorillas. Volcanoes national park in Rwanda is the country's most famous destination and synonymous with tracking mountain gorillas.
The park is in the northwestern part of Rwanda in a section of the volcanic massif-Virunga Volcanoes that straddle across borders from D.R. Congo, Rwanda, and Uganda. Volcanoes National park has a great history in connection with the conservation of Mountain Gorillas since it was base for Dian Fossey, a primatologist who started Gorilla Conservation in the Late 1960s.
The 160km2 park is in Musanze/Ruhengeri, a 2-hour drive from Kigali the capital of Rwanda. It covers part of the chain ranges of the volcanoes two of which are completely covered by the park and that is Karisimbi at 4507mm and the highest and Bisoke the other two of Muhabura, Gahinga are shared between Uganda's Mgahinga Gorilla National park and Sabinyo is shared amongst the three countries of Uganda, Rwanda, and D.R. Congo.
Volcanoes National park is fascinating, historical, and not just because of the mountain gorillas but also its landscapes and the array of wildlife (Flora and Fauna). Other than mountain gorillas, the park has a sensational list of primates that include the Golden Monkeys, an endangered species of monkey and endemic to the Virunga Ranges, it also houses forest elephants, buffaloes, forest hogs, bush pigs, bushbucks, duikers, spotted hyenas and a recorded list of about 200 bird species.
To do at the park
Gorilla Tracking
The activity offers a precious 1-hour encounter in the company of Mountain gorillas. It is a wildlife encounter like no other to watch mountain gorillas in a group teasing each other, juveniles as they play, feed, and as they just go about their day. Volcanoes national park is home to 12 habituated gorilla families that are open to visitors daily.
Guests meet at Kinigi Park headquarters for briefing, then allocated groups they are going to track in parties of 8, a ranger and guide who lead the group to the gorilla family. The treks are different days, some can be long others short, some hectic, and others not but all this depends on the location of gorillas on that day. A trek averages between an hours to 6 hours. Despite all that it is always rewarding. Take a look at Gorilla Trekking for more info on what to carry, rules, and tips.
Golden Monkey Tracking
The park has several primates, that call it home, and the golden monkey is the second most attractive primate and golden monkey tracking is the second biggest thing to do hereafter mountain gorilla tracking. There are two troops of habituated golden monkeys that inhabit the bamboo areas on the slopes of the park. They are easy to reach and have a completely different experience with gorilla tracking. But just like gorilla tracking, you are allowed an hour in their company.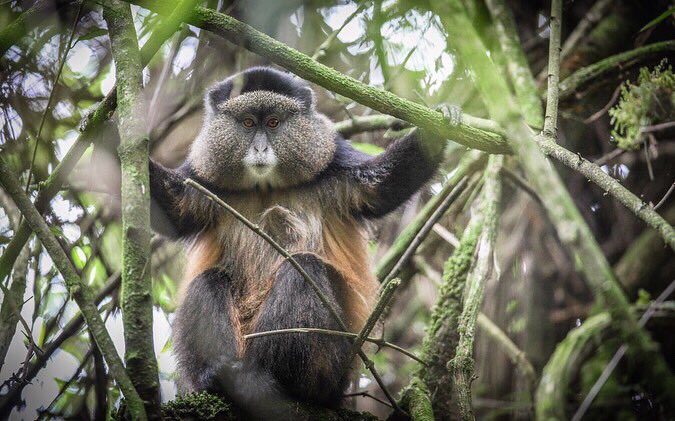 Hiking and Walks
The park has interesting hiking spots (Volcanic Mountains) and walking trails. Outdoor experience seekers can engage in hiking and walks over the beaten path. Visitors to the park can hike the volcanoes of Karisimbi (2 days hike), Bisoke, Muhabura, and Gahinga. Also, you can take on a Dian Fossey Tomb visit which also gets you to the Karisoke Research Centre that she established. For more about Volcano climbing in Rwanda, read here.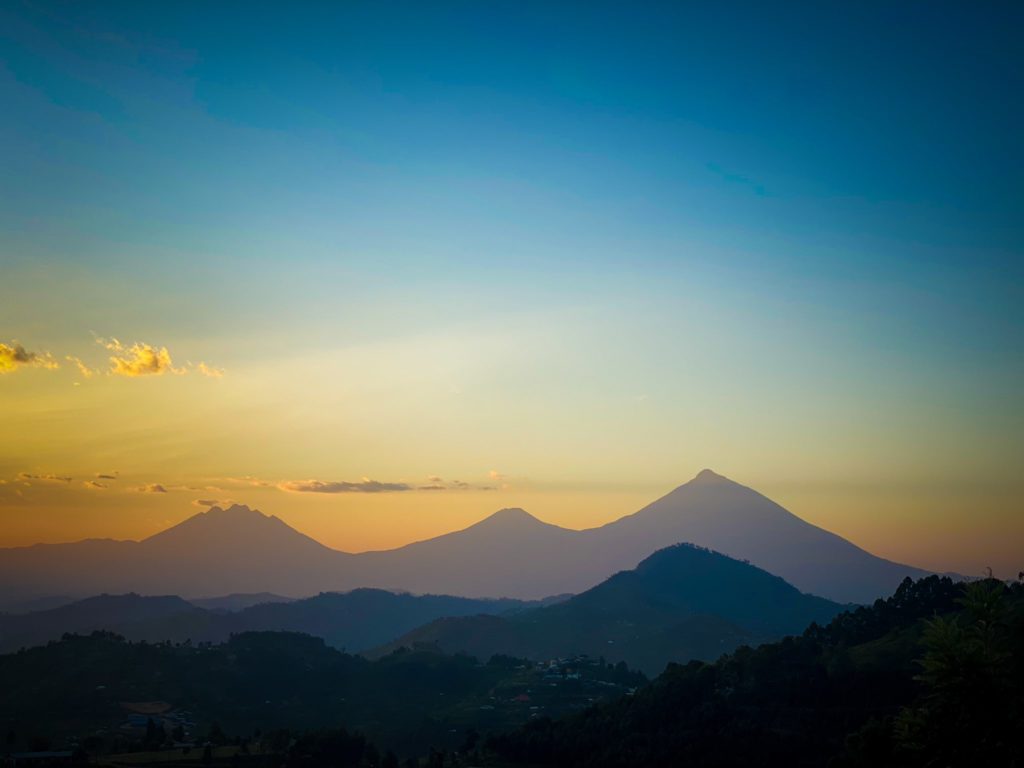 Bird Watching
Volcanoes National park is a gorilla haven but also an important birding area in Rwanda. Its variety of habitats (Bamboo, open grass, swamp, and heath) are home to colorful montane and forest bird species (about 200 recorded species) and 13 of these are endemic to the area. Some of the species here include the Dusky Crimsonwing, Rwenzori Turaco, Double-collared Sunbird, Archers Ground robin, among others. Don't miss the excellent birding environment of the park.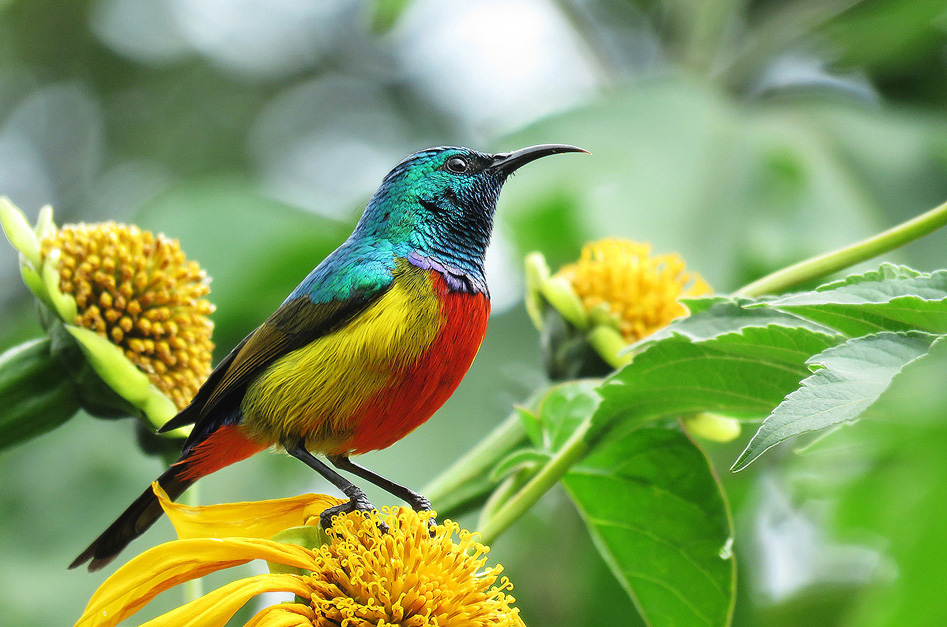 Cultural Tours
Like Wildlife, people are also part of Volcanoes National Park and we encourage visits to cultural centers and communities while here. They are a great insight into the lives of the locals, their traditions, history, and their relationship with the park and wildlife. You can visit the Iby'Iwachu Cultural Village or the SACOLA Cultural Centre all near Kinigi. These benefit communities and impact their life style.
These are what can be done at the park and a lot more can be done outside the park. Read here for more about what to do as adds on to a visit to Volcanoes National Park.
How to get to the park
By Road, Volcanoes National Park is about 72 miles from Kigali (2 hours' drive)/116 km. It is a drive on a smooth road. There are no daily flights to the park but visitors can chatter Helicopters to the park and anywhere in the country from Akagera Aviation and Kigali Helipad.
Best Season
The park is open all year for gorilla tracking and gorillas sighting is almost a guarantee for every month and is not dependable on a season, though the drier season of June to early September is good to visit because the trails are easy to hike and not slippery. But the period is in the high season and permits tend to sell out and lodges are expensive. March, April, October, and November have heavy rains and are in the low season.
| | | |
| --- | --- | --- |
| Excellent Visiting Months | Good Visiting Months | Fair Visiting Months |
| January, June, July, August ,September October. | February, May ,November, December | March & April |