In South Western Rwanda, Rusizi district, is one of Africa's oldest rain forest, the 1019sqkm, Nyungwe National Park, a dense Afromontane forest with bamboo slopes, grassland, and wetland. The park has a rich ecosystem and a biodiversity rich hotspot with a unique shape and topography supporting the life here.
The new park first received a reserve status in 1993 to save it from agricultural activities and gained a national park status in 2004 and now it enjoys a number of visitors and offers experiences that make Rwanda to be beyond just a mountain gorilla tracking destination.
Nyungwe national park has Rwanda's largest remaining tract of forest bordering Burundi and its biodiversity includes 75 recorded mammal species, 322 bird species, 1068 plants, and 13 primate species. The 13 primate species make 25% of Africa's primate species and this makes a visit to Rwanda for primates safaris complete. They include chimpanzees, L'Hoest's monkey, owl faced monkeys, black and white colobus monkeys, among others.
In addition to this it boasts with an excellent butterfly population, some of the life here is endemic and others not found elsewhere in Africa.  
To do at the park
Chimpanzee tracking
The chimpanzees are popular at the park. The park has troops of chimpanzees in hundreds and the chimpanzee tracking experience is the biggest experience here. The experience starts in the early morning from Chyamudongo where you receive briefing. Just like gorillas, visitors are put in parties of 8 and an hour is allowed in the company of these apes. Despite the many trails to hike on it may be hard to see chimpanzees as they are always on move acrobatically swinging on the branches (sightings may not be clear or as reliable as with gorillas) but the tracking is worth.
These and other 12 primate species can be tracked/seen at the park.
Forest Walks
Nyungwe National Park has 13 trails (over 130km of routes/trails) that allow visitors to explore the habitats and interior of the park. The trials at the park are excellent lasting from 1 hour to 8 hours. The steep terrain of the park makes it ideal for walks and hikes. The trails at Nyungwe National park include the Igishigishigi trail, Karamba, Umugote, Umoyove, Uwinka, Irebero, Imbaraga, Bigungu, Isumo, Kamiranzovu, Muzimu, Ngabwe, and Rukuzi Trails.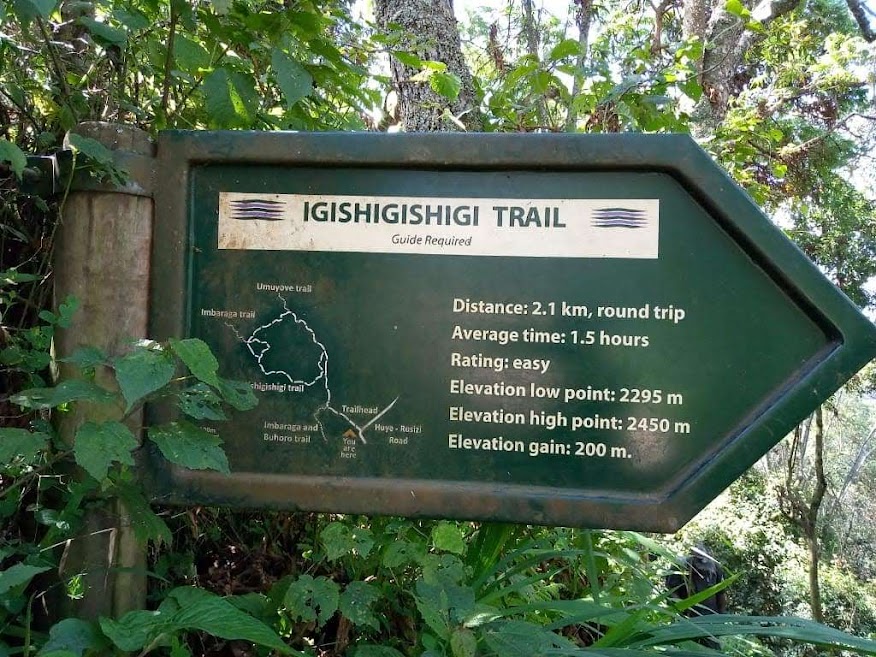 Canopy walk
The 2.1km Igishigishigi trail, amazes with views of the canopy walk. The 200m long series of steel walk ways, towers up to 70m into the forest canopy and offers exceptional views across the rainforest and giving you a birds eye view of the park. It is a vintage point to experience the park from and also an adrenaline experience and is an impressing one. Read here for more.
Bird watching
Nyungwe Forest has some amazing glittering prizes and is an Important Birding Areas (IBA)/destination in Rwanda. It is home to 320 bird species. The tract of virgin forest has thick vegetation and high canopy but it offers great sightings. Species here include the Red-collared Mountain babbler, Purple-breasted sunbird, Rwenzori Turaco, Kungwe Apalis, Paradise fly catcher, White Headed Wood hoopoe, and Stuhlmann's double collared sunbird, among others.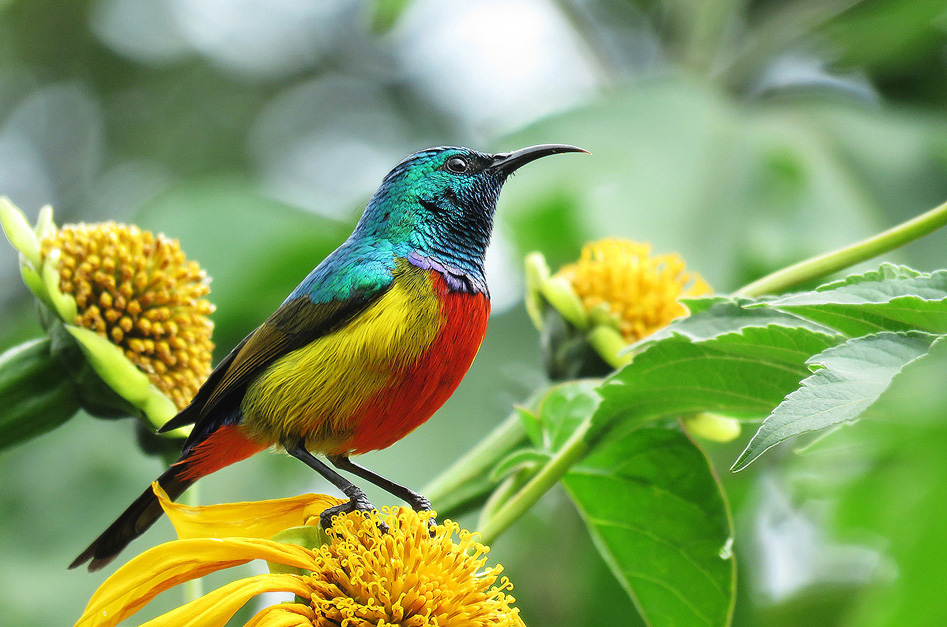 Monkey tracking
For primate lovers, Nyungwe National park is an ideal destination. 13 primate species including chimpanzees but despite chimpanzee tracking being the popular primate activity here. Guests can also engage in other monkey tracking activities like treks to catch glimpse at the Black and White colobus monkeys and grey-cheeked Mangabeys. The park has a health population of habituated black and white colobus monkeys that can be found in troops of several hundreds.
Visitors to the park can engage in the above activities and an addition of tea plantation tours and community engagement.
Getting to the park
Nyungwe National park is 200km drive from Kigali to the south west of the country. It is also 55km from Rusizi and 87km from Huye. From Kigali international airport (main entry point), it is about 5 hours to eth park through an exciting country side. The drive includes a drive through the Congo Nile trail. You can also chatter a helicopter transfer to the park via Akagera Aviation.