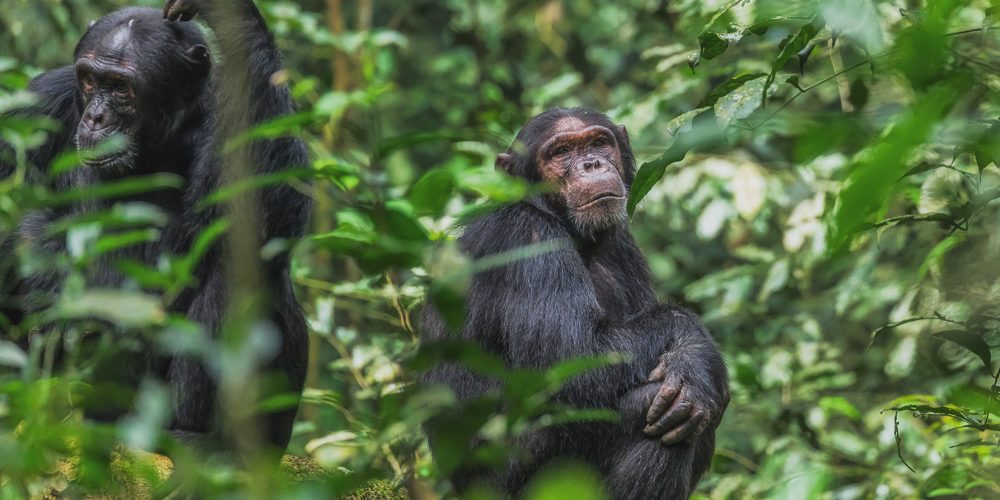 When you talk primates in Uganda, then Kibale National park comes top of the talk. The park is Uganda's premier chimpanzee tracking spot that protects 766km2 of a predominant forest habitat that extends to about 50km south of Kampala-Fortportal road and around 150km North of Queen Elizabeth National Park. The park was originally a forest reserve gazetted in 1932 and was upgraded to a national park status also extended southwards to form a block sharing a common border with Queen Elizabeth National park in 1993.
The Kanyanchu visitors' center is the trailhead and main center of tourist activities within the park. It is 35km from Fort portal, the main town/city in the area. Kibale National park is dominated by a forest that is interspersed with grassland and swamps. It has a floral composition transitional to montane and low land forest with 200 and more species of trees, a list of 60 mammals with 13 primate species recorded, and 372 bird species. The forest offers a superb primate watching, birding, and community experience at Bigodi.
To do at the park
Chimpanzee tracking and habituation
Chimpanzees are the highlight of any visit to Kibale Forest National Park. Chimpanzee tracking sessions leave twice a day from Kanyanchu at 8.00am and 14.00pm seeing chimpanzees here is not guaranteed but the odds stand at a 90% chance. Well habituated groups can be tracked by visitors and they can see the chimpanzee from an 8-10m distance or sometimes even closer. A standard trekking excursion can take about 4 hours including an hour with the chimpanzees.
Chimpanzee habituation is an alternative for those that would want to spend more time with chimpanzees. It gives you the experience to hang around with researchers as they go about the day to train wild chimpanzees to get used to human presence. 
Birding
The park boasts 372 species of bird species and 60% of these are Ugandan forest birds recorded. Birders can tick off their checklists on walks from around Kanyanchu looking out for the Red-Chested Paradise flycatcher, the Green Breasted Pitta, and others. 
Nature walks
Visitors can walk through the forest with the guidance of a ranger/guide from the Uganda Wildlife Authority. A day-guided walk, out of Kanyanchu into the forest, offers a chance of spotting monkeys, insects, and other small details that you get off the beaten tracks. The other most alluring ones are the spotlighted night walks that start from 19.30 to 22.00. These offer a chance of seeing nocturnal primates like the Galagos, pottos, and other small predators.
Bigodi wetland walk
Bigodi wetland sanctuary is an example of a community conservation project benefiting the community and nature. The program is run by Kibale Association for Rural and Environmental Development (KAFRED) and the collection from here is used to support the community. The swamp offers some of the finest birding and primate watching in the area. A guided walk through the swamp and also stretching to the communities could be a great add on a tour at Kibale Forest. It gives insight into the locals and their culture.
Clients can also do the Sebitoli Forest walks, Kihingami wetland birding, visit the impressive Mpanga falls.
How to get to the park.
By road, the park can be accessed from Uganda's capital via Kasese from Queen Elizabeth National or from Kampala via Mubende and Fort Portal or through Mbarara and Kamwenge.
By air, you can reduce the driving distances, by flying to either Nyakisharara Airstrip that is 100km from Kamwenge and Kanyanchu, or the Kasese airstrip that is 80km from Fort Portal.
Where to stay at the park
Budget: Lake Nkuruba reserve Resort, Rwetera Safari Park, Rwenzori Guest House
Mid-range: Turaco Tree Tops, Kibale Forest Camp, Isunga Lodge, Chimps Nest, Chimpanzee Forest Guest House
Luxury: Primate Lodge, Kyaninga Lodge, Ndali Lodge